Grand Mother's Juggling 
2012+2014+2016+2017+2022=2022
plaster, clay, wood, perilla oil bottle from busan, tangerine, chestnut, rice, wooden stick, wooden box(되), chrysanthemum, korean table(개다리소반), vessels for korean ancestral rites, german books, metal ball, old painting of artist(oil on canvas and plaster)
Winter Garden
2022
photo print on paper
125cm x 280cm
Be Bird
2010+2011+2017+2018+2022=2022
metal, wood, cotton, plants, photo, picture frame
Ca. 140cm x 240cm x 25cm
Moon Dance (문춤)
2021
acrylic on canvas
70cm x 140cm
untitled (Ongoing)
2020-2021

acrylic on canvas
210 x 400cm (24 canvases, each piece 70 x 50 cm)
ooooooooooooosnow
january 2021
fine art print
the circle
2017/2019
mixed media
115 x 90 x 5cm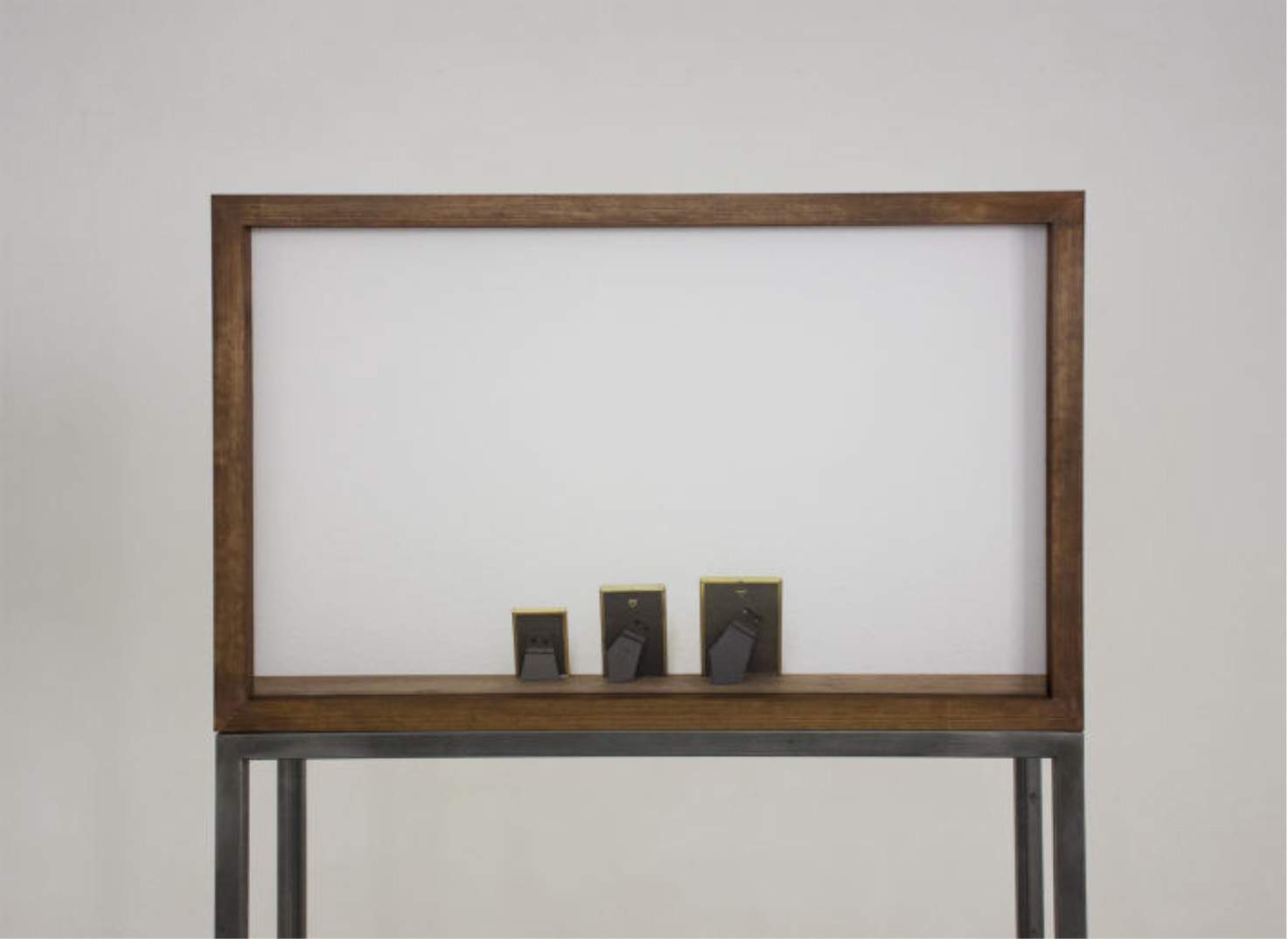 looking behind
2019
photographic paper, wallpaper, paint, glass, wood, metal, picture frames
ca. 153.2 x 78.3 x 26cm
something
2014/2019
photographic paper, aluminum panel
ca. 88 x 58.5 x 2cm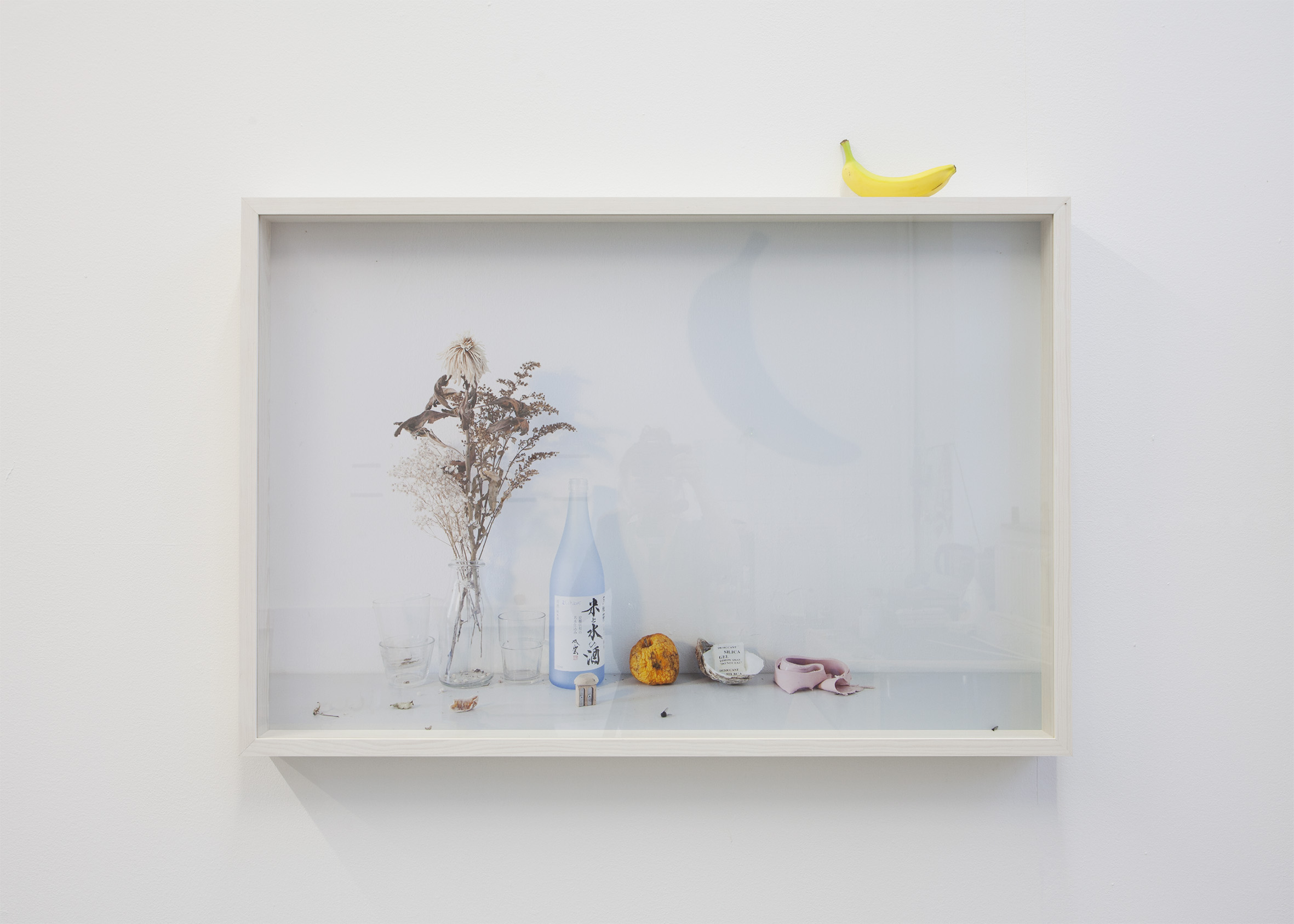 Stilles Leben
2016-2018
photographic paper, wood, glass plate
ca. 76 x 116 x 10cm
portfolio
2018
photographic paper, black paper, plexiglass
ca. 215 x 302 x 3 cm
versunkene Ort
2017
insect, oil, wood, bowl
variable size
distance
2017
photogram: 73,5 x 106,5cm
Exhibition view 'Heimsuche' 2017
2017
Exhibition: Jenseits des Raumes
2016
ca. 290 x 350 x 350cm (white cube)
Inverted exhibition space(white cube) within an exhibition space.
Leben durch Tod
2015
flowers, wood, water, vase
ca. 60 x 30 x 30cm
where the missing things are.
2015
branches, film strip, diascope
ca. 45 x 70 x 14cm
photography, installation
How i become you
2015
mixed media, frame, motor
ca. 150 x 150 x 5cm
Die Rückkehr
2015
wood, motor, photographic paper, glass
ca. 30 x 50 x 50cm
installation, photography
A picture frame with photographed shadow of a glass rotating counterclockwise and touching the real shadow.
you&you&you&you
2015
bottle, beamer, photo paper
ca. 53 x 86 x 150cm
video, photography, installation
you & me & something like you #2
2014
book, photographic paper, table, lamp, glasses
ca. 140 x 105 x 75cm
Wie ich bin, wie du bist.
2014
wood, TV, DVD player
ca.130 x min. 200(variable) x 60cm
In rocking table that does not move. The TV shows a black horizontal bar rocking back and forth, while the line on the wall in the background stands still.
Light
2014
plaster, wood, oil paint, canvas
50 x 40 x 5cm
Isabella's basil pot
2012
basil, cray, wood, LED light, glass sphere, frame, paper, earth, wood glue
ca. 145 x 50 x 50cm(sculpture), 30 x 22cm(text frame)
*A story from 'The Decameron' (Ca. 1353) by Giovanni Boccaccio
Verschwundene Vertraute, gebliebene Fremde und Ich
2011-2013
mandarines, branches, limes, bottles, cups, glasses, coffee, wine, water, neon light, wood, wall paint, plaster, putty
ca. 244 x 308 x 125cm (each ca. 244 x 124 x 20cm, 244 x 124 x 50cm)
The imprints differ from the actual objects behind the wall.
Oma's Finger
2012
water, branch, moss
ca. 5 x 27 x 3cm
Nest
2011
frame: 44,6 x 32,6cm
photogram: 42 x 30cm
Fish can't close their eyes.
2011
fish, varnish, aluminium plate, wood, bass speaker
ca. 40 x 50 x 50cm
The hidden bass speaker beneath the plate reproduces heartbeats and makes the fish skeleton tremble.
spitzig macht spitzig
2011
plaster, plaster powder

ca. 25 x 150 x 150cm
where you are, where i am
2011
wood, wall paint, neon light, cotton, paper, pen

ca. 110 x 80 x 30cm (drawing), ca. 150 x 120 x 30cm (min. size of the Installation, size variable)
Universe
2010
wood, paper, metal, suger, wall paint
Jetztzeit und Späterzeit
2010
ice, mango, candle, plant, plant pot, sand, fabric, lemon, glass, water, wood, spray paint
ca.90 x 200 x 20cm